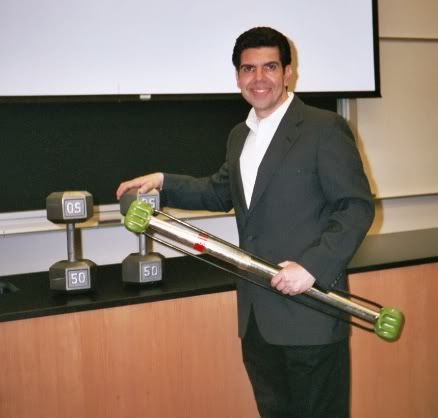 Frank D. Georgiana Jr
Frank D. Georgiana Jr., Library Assistant at Penn State University, Fayette, The Eberly Campus in Uniontown, PA presented a faculty colloquium at the campus on April 13, 2006. The seminar was entitled, "T/E Ratios and Steroids: The Gray Areas of Athletics."

In conjunction with his presentation, he wrote a "Guest Commentary" entitled "Steroids Continue to Pose Great Health Risks, Particularly Among the Young." This editorial was published in the May 24, 2006 edition of the Uniontown Herald-Standard Newspaper. Also, two other guest commentaries regarding steroids and gene therapy as a performance-enhancing drug were written by Frank and printed in the Herald-Standard in July and August 2005.
Frank did extensive research over eight months. His document is 145 pages in length.
Frank gathered knowledge from medical and scientific experts, collegiate and professional sports organizations and athletes who took anabolic-androgenic steroids. His findings were educational, informative and new. For example, the popular nutritional supplement, creatine, will cause kidney damage if taken on a daily basis. After the initial loading phase of creatine, the supplement should be taken for ten days on, then ten days off to avoid damage to one's kidneys. This new fact is according to the only board-certified endocrinologist/nutritionist in Western Pennsylvania, Dr. Ramesh Khurana.
Frank has been studying kinesiology, applied nutritional biochemistry and the other biological sciences that relates to athletic performance since 1965. He is consistently updating and adding information to his present work. Frank is currently seeking a book publisher.
Frank D. Georgiana Jr addresses the audiance
.
.
REFLECTIONS OF A NATURAL BODYBUILDER
The embodiment of personal responsibility, discipline, and commitment to a life built on the foundations of optimal wellbeing and impressive corporal aesthetics. Mario Strong's book tells the story of a mans life, his trials, disappointments and inspiring successes in the pursuit of becoming a champion in the field of bodybuilding, a sport that later had to have "Natural" preface the name to differentiate it from the drugs that came to soften its chiseled and Herculean image.
Reflections of a Natural Bodybuilder is a human-interest story about one man's insight into the world of bodybuilding. This compelling book explores how Staten Island bodybuilder Mario Strong implements his passion for natural bodybuilding to achieve his quest of health, strength, and longevity. However, his path towards accomplishing these goals is seen not without obstacles as he chronicles his unique history in a sport filled with nostalgia, hope, humor, ego, deceit, pharmaceuticals, pain, and death. Reflections of a Natural Bodybuilder also features tons of beneficial advice. From muscle-building workouts to fat-loss programs, you will find its in-depth natural bodybuilding guide not only informative, but also entertaining and inspirational as well. This fully illustrated book is a must read for the layman and athlete alike!