PRESS RELEASE




On the 6/7 of May, 2006, Thijs Althof, Aad Althof and Robbert-Jan van Heeckeren are going to give a try for the longest work-out in the history of bodybuilding and fitness. They will go for the record at Strada Sports in the town Vorden (Netherlands). They will train with dumbbells, barbells and cardio fitness equipment and will try to set a record of at least 24 hours.

At the moment they have a coach: Leon Averdijk and a medical staff assistant: Melle Steringa. Also Peter Bartels will control the record keeping. Every hour they will have a 5 minutes rest period (NBBF rules), and they will can get 5 minutes of time extra for injuries occurring during every 5 hours, both athletes must also stay in the gym for the entire period.

They are sponsored by: XXL-Nutrion, Bardolino, Sport-tietje, Horizon sports, Panatta, Dalphin Sportdranken, Strada Sports Aannemersbedrijf Dostal B.V., Robbert's Sportfood, Restaurant Olde Lettink, Multimedia Productions, Sportfood.nl. Some of these are big names in the Holland bodybuilding scene.

It's the first time in this kind of sport there will be a record, no one else has tried to set one before! They have trained more then a year to go for this record. Former Ms. Olympia Julliette Bergman, of the NBBF (Netherlands Bodybuilding Federation) will be on hand to acknowledge the record and to possibly lobby both athletes into the IFBB.

Both athletes can be contacted at gokualthof@hotmail.com for press info and sponsorship.

UPDATE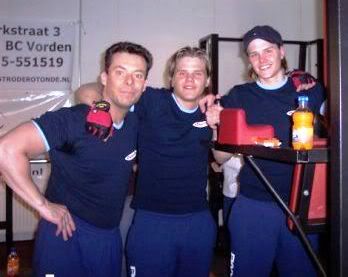 .
.
.
.
.
.
.
.

Dear Sport friends,
On 7 May 2006 Thijs Althof, Aad Althof and Robbert-Jan van Heeckeren have done the longest work out ever in the bodybuilding-sport in Strada Sports Vorden (Netherlands). We have done a work out for more than 24 hours!!!!!!, and trained all body parts very hard in the style of bodybuilding training !.

It was a big challenge for us to train the longest workout ever and promote the sport in a positive way. The workout was like hell for us because a normal training is for an hour or two hours. During the last year we had a special training, food and supplemantation-programs and trained sometimes 5-6 times a week. Also we had special training session for testing our programs extreme intensity from 4 a 5 hours!. The attempt cost us 3 a 4 kg of bodyweight because it was an extreme training and it was warm weather in the Netherlands

On 6-7 May 2006.
With the help of Leon Averdijk (coach), Peter Bartelds, Melle Steringa, Dennis Eijkelenkamp and our great sponsors/fans, we have brought a new record to our sport!. Also a special thanks to Julliette Bergman (former Miss Olympia), Liona Bergman, the NBBF and the IFBB because they made it possible to settle this new world record.

It feels great to be a world record holder in our sport and help and promote our sport in a positive way. A lot of press coverage was given over our attempt and yesterday a local television station had an item about it every hour during their local programming. The coming days we will rest and start a new supplementation and food program to stay in shape.
If you want more information or pictures, you can contact us on gokualthof@hotmail.com .
Sport greetings,
Robbert-Jan van Heeckeren Aad Althof Thijs Althof
(Netherlands)

ENTER ROBBERT TRIPPLE'S WEB SITE HERE
Adriën Robbert-Jan en Thijs bij "De tien van Marlies" op TvGelderland. Ze staan op nummer 1 met het meest bijzondere record van de afgelopen 50 jaar!!