LYLE ALZADO

By Mike Puma
Special to ESPN.com

"That violence that you saw on the field was not real stuff. Lyle used football as a way of expressing his anger at the world and at the way he grew up," says Peter Alzado, Lyle's brother, on ESPN Classic's SportsCentury series.

Lyle Alzado's ticket to the NFL was anabolic steroids. An undersized player in high school, he began experimenting with the muscle-building drugs in college and never stopped. That led to a lucrative career in the NFL.
But in 1992, seven years after playing in his last regular-season game, Alzado died from brain lymphoma, a rare form of cancer. He was 43. Although there is no medical link between steroids and brain lymphoma, Alzado was certain the drugs were responsible for his cancer. He became a symbol of the dangers of steroid abuse.

The 6-foot-3, 254-pound Alzado played 15 seasons at defensive end for the Denver Broncos, Cleveland Browns and Los Angeles Raiders. He was twice named All-Pro and compiled 97 sacks in 196 games.

A violent, combative player known for his short temper, Alzado was most comfortable with the renegade Raiders of the 1980s, helping them beat Washington in Super Bowl XVIII. But he also starred for Denver's "Orange Crush" defense of the 1970s, compiling 64½ sacks.

At the height of his steroid and human growth hormone abuse, Alzado estimated he spent $30,000 a year on the drugs, often buying them at gyms around the country. His second wife, Cindy, blamed the breakup of their marriage on his mood swings caused by steroids. She said she called police at least five times during their marriage because Lyle physically abused her, but Alzado was never arrested.

"The guy had a split personality," Raiders defensive end Greg Townsend said. "On the field, he had this tough image that he projected. Off the field he was the gentle giant. So caring, so warm, so giving."

That might have been true most of the time, but Alzado also admitted the steroids sometimes made him so crazy that at times he couldn't deal with social stress. "Once in Denver in 1979 a guy sideswiped my car," he said, "and I chased him up and down the hills through the neighborhoods."

After years of denying he used steroids, Alzado came clean in a first-person story for Sports Illustrated in July 1991, three months after being diagnosed with brain cancer. "It was addicting, mentally addicting," Alzado wrote of his steroid use. "I just didn't feel strong unless I was taking something."

By the following spring, Lyle Alzado was dead.

He was born on April 3, 1949 in Brooklyn, N.Y., the son of an Italian-Spanish father, Maurice, and a Jewish mother, Martha. The family moved to Cedarhurst, on Long Island, when Lyle was 10.
Alzado endured family tensions. He described his father as a "drinker and street fighter" who left home when Lyle was a sophomore in high school. Martha worked as a florist, earning less than $100 a week. To help support his mother and four siblings, Alzado worked while in high school.
On the football field, Alzado was an aggressive defensive lineman at Lawrence High School, but he was no star. When he graduated, there were no scholarship offers waiting.
After Kilgore Junior College in Texas told Alzado he wasn't good enough for the football team in 1967 - Alzado later said his befriending an African-American teammate was to blame - he was accepted at Yankton College, a tiny NAIA school in South Dakota. It was here that Alzado began using steroids.
In 1970, a Broncos assistant coach had car trouble in Montana and decided to pass the time by watching Montana Tech on film. The opponent was Yankton, and Alzado performed impressively.
Denver made Alzado its fourth pick in the 1971 draft. He became a starter at defensive end as a rookie and soon emerged as a feared member of the defense. "My first year with the Broncos, I was like a maniac," Alzado said. "I outran, outhit, outanythinged everybody. All along I was taking steroids and I saw that they made me play better and better."
After his rookie season, Alzado went back to Yankton to get his college degree. He received a B.A. in physical education with an emphasis on secondary education. In 1972, Alzado led Denver with 10½ sacks and tied for the most tackles with 91. He set a Broncos record with 13 sacks in 1974, when he began a string of seven straight games with at least one sack, a streak that continued through the first game of 1975.

In 1977, he was named the AFC's Defensive Player of the Year and Defensive Lineman of the Year after leading the Broncos with eight sacks. In Super Bowl XII, a 27-10 loss to Dallas, Alzado and teammate Rubin Carter each had two sacks, becoming the first players in franchise history with multiple sacks in a postseason game.
After making the Pro Bowl for the second consecutive year, Alzado - who had led the team in sacks in five of the last seven seasons - and the Broncos had a contract dispute. He flirted with the idea of becoming a pro boxer and in July 1979, he went eight rounds with heavyweight champion Muhammad Ali in an exhibition. A month later, Alzado walked out of the Broncos' training camp. Management responded by trading him to Cleveland for draft picks.
Alzado's best season with the Browns was 1980, when he led the team with nine sacks. The following season he led the team with 8½. But that wasn't good enough to keep his career in Cleveland alive. Looking to dump salary, the Browns traded Alzado to the Raiders for an eighth-round draft choice in April 1982.

"A lot of guys on the Raiders asked me about steroids, and I'd help them get what they needed," Alzado said.
In a strike-shortened season, Alzado tied for the team lead with seven sacks, earning him honors as NFL Comeback Player of the Year. Against the Jets, he ripped the helmet off offensive tackle Chris Ward and flung it, prompting the NFL to create a rule outlawing helmet throwing.
In 1983, he had seven sacks in the regular season before getting 2½ in the Raiders' 38-10 rout of Pittsburgh in the divisional playoffs. The Raiders advanced to the Super Bowl, where Alzado promised to behead Redskins quarterback Joe Theismann. That didn't happen (Alzado had no sacks), but he got a Super Bowl ring with the Raiders' 38-9 victory.

"I was so wild about winning," Alzado said. "It's all I cared about - winning, winning. I never talked about anything else."
After getting six sacks in 1984, Alzado was limited to only 11 games the next season, recording just three sacks. He retired after the campaign, attributing his use of steroids to the Achilles' tendon injury that forced his exit from the game he loved.

Pursuing an acting career, he appeared in 15 movies, all of them forgettable, such as Ernest Goes to Camp, Tapeheads and Club Fed.
In 1990, at 41, Alzado attempted a comeback with the Raiders. He suffered a knee injury in training camp, played in one exhibition game and was waived.
In March 1991, at the marriage to his fourth wife, Kathy, he couldn't walk a straight line. A month later, he was diagnosed with brain cancer.
In his account to Sports Illustrated, Alzado said he began taking anabolic steroids in college in 1969 and never stopped. "It wasn't worth it," Alzado wrote. "If you're on steroids or human growth hormone, stop. I should have."
After receiving a radical chemotherapy treatment and contracting pneumonia, Alzado died on May 14, 1992 at his home in Portland, Ore. The official cause of death was complications from brain cancer.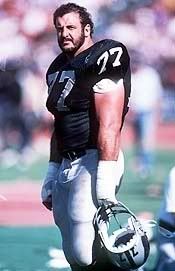 .
.
REFLECTIONS OF A NATURAL BODYBUILDER
The embodiment of personal responsibility, discipline, and commitment to a life built on the foundations of optimal wellbeing and impressive corporal aesthetics. Mario Strong's book tells the story of a mans life, his trials, disappointments and inspiring successes in the pursuit of becoming a champion in the field of bodybuilding, a sport that later had to have "Natural" preface the name to differentiate it from the drugs that came to soften its chiseled and Herculean image.
Reflections of a Natural Bodybuilder is a human-interest story about one man's insight into the world of bodybuilding. This compelling book explores how Staten Island bodybuilder Mario Strong implements his passion for natural bodybuilding to achieve his quest of health, strength, and longevity. However, his path towards accomplishing these goals is seen not without obstacles as he chronicles his unique history in a sport filled with nostalgia, hope, humor, ego, deceit, pharmaceuticals, pain, and death. Reflections of a Natural Bodybuilder also features tons of beneficial advice. From muscle-building workouts to fat-loss programs, you will find its in-depth natural bodybuilding guide not only informative, but also entertaining and inspirational as well. This fully illustrated book is a must read for the layman and athlete alike!