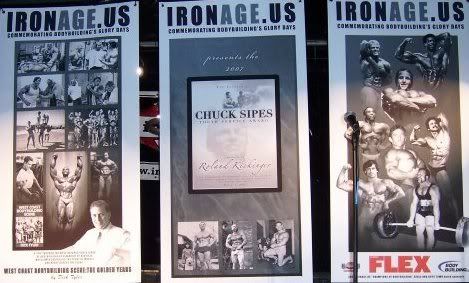 On March 1-4 of 2007, Shawn Perine and moderators of the Iron Age website made a concept of bringing the legends of bodybuilding together a reality with a special awards dinner and legends section at the

Arnold Schwarzenegger

Expo….here's how it all began…

By Jeff Preston of the Ironage
Just a little over four years ago, June 17, 2002 to be exact, Shawn Perine our founding father, launched a small little website dedicated to an era that he coined as "The Ironage". A term that has become a standard in the lexicon of bodybuilding. Slowly but surely we all drifted in, like wandering pilgrims drawn to a place that they do not know but in their heart when they arrive it is clear...they are home.

When we were still under 100 members we dreamed of a day that maybe, just maybe we could get "one" of the champs online with us.? That wish was granted many times over. Ironage champions have not only visited but became active members. They have found, as we knew, that that old school camaraderie still exists.

We have been kicking around the idea, behind closed doors for several years now, of an Ironage booth at the Arnold Classic Expo, a place that we could perhaps provide booth space for Ironage champs to gather that normally would not be attending due to cost restrictions. It 's not uncommon to see many attending just to visit old friends.? Sometimes recognized, sometimes not.? Of course many might prefer the anonymity.

We thought if there was one place that all could gather to reunite with each other, meet old fans, and create new ones, and perhaps sell photos and other items if they so desired, we, the members of Ironage would be the ones to provide it. It only seemed too fitting for us the be the ones to show our appreciation to the men that helped shape our lives.

Two months ago the discussion surfaced again in the moderators forum, only this time it was not at the last minute. Now we had time to really explore the possibilities.We talked over the proposal with Jim Lorimers people in Columbus, they backed the concept 100 %.

We made contact with several champs to see if they were interested in attending, even this early on we have an impressive list of tentative guests.

Needless to say as the word spreads the list will hopefully grow. We also have some that cannot commit this early out but will let us know one way or the other as the time gets closer already it has become clear that "We need a bigger boat!"

Did I forget to mention live webcams from the booths also?
With inspiration drawn from the Draper's "Bomber Bash" we also thought? that an Ironage dinner? kicking off the weekend would be perfect. Finally we could have the chance to finally meet and shake each other's hands. Many friendships have been made through this site even though never meeting face to face...it's about time we finally got together.

Right now we are looking at a Thursday night "Hawaiian Luau" at a restaurant only a block and a half from the convention center. Seating is limited and if the demand is high enough we might have to seek another venue.
All the above is a noble event in and of itself but there was something bigger just below the surface waiting to emerge.
Raising funds for such an endeavor would be a monumental task if we existed "as is".
Trying to hook up with a charity? seemed a good solution? but then it dawned on us that we are a non for profit site, we make no money from the site in any shape or form, so why couldn't we , Ironage.us, become a non for profit entity?

We have!The paper work is signed, sealed and delivered. We are now registered in the state of Ohio as a non for profit organization!

There is Ironage.us the website, now there is also Ironage.us the non for profit charitable organization. Our purpose, in conjunction with a yearly? Ironage Awards Dinner and Legends of Bodybuilding Ironage Booth at the Arnold

Expo,? is to help raise awareness and funds for other charities of our choosing . Preferably youth based charities, the earlier post today was a lead in to this announcement

I have been speaking for the past two weeks with a major youth based charity on the concept. At first they thought it was a bad idea and not interested, which is understandable. After all their view of? bodybuilding is what they see around them today.? Being that there is a weight room in each of the homes this organization has throughout the country the director wants to talk more. Unfortunately there is still a hill to climb as to? making sure our mission is clear and not necessarily about? bodybuilding as a competitive sport but rather a healthy life style, camaraderie, and the brotherhood of iron.

We are now selling what is in our hearts, not what's on a stage.

We really do have the opportunity to change lives. And how appropriate that the men that helped shape ours once again can do the same for a whole new generation!

As all this emerged something else became clear there needed to be an award given to show appreciation and acknowledgment to a bodybuilder who has dedicated him or herself to youth in a positive way.

The work that Chuck Sipes did for years with juvenile youth in California
became an ideal. Each year we will be presenting the "Chuck Sipes Award" given for the above stated reasons at our Ironage Dinner. Norm Komich, Chuck's good friend has already agreed to make the presentation!

Indeed there are glorious times ahead and much work left to do to make this all happen.

We know the working spirit of? The membership here, we also know there are many good men and women that will help us take up this cause.

The call to arms is now!

.
.
REFLECTIONS OF A NATURAL BODYBUILDER
The embodiment of personal responsibility, discipline, and commitment to a life built on the foundations of optimal wellbeing and impressive corporal aesthetics. Mario Strong's book tells the story of a mans life, his trials, disappointments and inspiring successes in the pursuit of becoming a champion in the field of bodybuilding, a sport that later had to have "Natural" preface the name to differentiate it from the drugs that came to soften its chiseled and Herculean image.
Reflections of a Natural Bodybuilder is a human-interest story about one man's insight into the world of bodybuilding. This compelling book explores how Staten Island bodybuilder Mario Strong implements his passion for natural bodybuilding to achieve his quest of health, strength, and longevity. However, his path towards accomplishing these goals is seen not without obstacles as he chronicles his unique history in a sport filled with nostalgia, hope, humor, ego, deceit, pharmaceuticals, pain, and death. Reflections of a Natural Bodybuilder also features tons of beneficial advice. From muscle-building workouts to fat-loss programs, you will find its in-depth natural bodybuilding guide not only informative, but also entertaining and inspirational as well. This fully illustrated book is a must read for the layman and athlete alike!