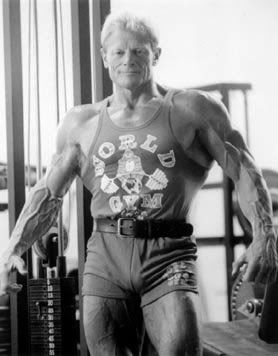 Dave Draper, a 1960s bodybuilding star is back-and touting the rewards of strength building

By John Hanc

Six feet tall and 235 rock-hard pounds, Dave Draper rose like a blond colossus from the mists of 1960s pop culture. He was everywhere-on the covers of Muscle Builder and Mr. America, flexing his 20-inch biceps in the California sun. In the 1967 movie Don't Make Waves. And on TV's The Monkees, kicking sand in the face of "97-pound weakling" Davy Jones, in a spoof of the old Charles Atlas ads.

Now, at 64, Draper is as passionate as ever about the value of lifting weights to live longer by staying strong and fit. He urges others 50-plus to follow in his footsteps, even those who have never done a dumbbell press in their lives. "Weightlifting can be helpful, interesting and rewarding," he says. "Your vigor, your energy, your independence ... these are all things to be gained from weight training."

They are also things Draper lost for many years. As a young, handsome bodybuilding icon, he seemed to epitomize the Southern California lifestyle, and his physique earned him the Mr. Universe title. In the '60s, Draper personified fitness-but few knew that his whole shtick was a sham.

Except the muscles: they were real. Draper had been developing those since he was 12, not on a West Coast beach but in the basement of his parents' home in Secaucus, N.J.

And the girls and glamour? Not true. Weightlifting was a job. "I wasn't that surfer guy with all the chicks," Draper says. "I was the guy with a wife and kid who dragged himself down to the gym at 6 every morning."

Bodybuilding publisher Joe Weider helped create the Draper myth. He brought him to California at age 21, put him on the cover of his magazine Muscle Builder and dubbed him "the Blond Bomber." Hollywood and TV came calling.

Suddenly, it was all over. Draper was replaced by a charismatic newcomer, Arnold Schwarzenegger. The Blond Bomber was out, the Austrian Oak was in.

Draper took the demotion hard: he became a real dumbbell, falling into a decade-long haze of drug abuse. In 1983 he nearly died from congestive heart failure. After that, he wrote in his autobiography, Brother Iron, Sister Steel (2001), "my eyes cleared ... I plugged into the gym and resuscitated the soul."

And the gym is where you'll still find Draper, who lives in Aptos, Calif. He weighs in at 220 and is still rock-hard. He's also healthy, sober and enthusiastic about the weight training that has defined his life. And he's spreading the word to men and women of all ages to build their strength for better balance and endurance.

"Start lifting [weights] cautiously but courageously," he advises. "Consistency is the key." He favors free weights for performing basic exercises that work the muscles.

After his hiatus from training, Draper now goes to the gym with more zeal. "I'm not nearly as strong," he says, "but I look forward to it. Most of the time, when I'm done with my workout, I've got a big smile on my face."

John Hanc lives in New York and writes about health and fitness.