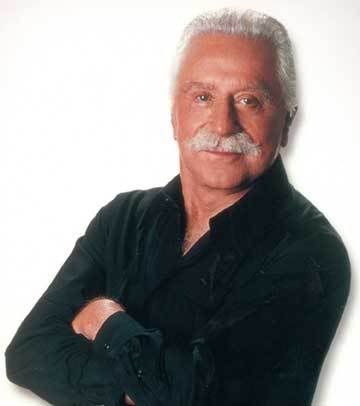 By Robert David Jaffee


Bodybuilding guru Joe Weider, who discovered and trained Arnold Schwarzenegger, among other champions, walks with a slight limp into the second-floor conference room in one of the buildings bearing his name in Woodland Hills. Outside, Tuscan columns of this Greco-Roman building support a frieze of Olympians engaged in wrestling, archery, running and weightlifting.


Even at 86 years old, Weider gives you the sense he might have once been one of those Olympians. As he approaches the head of the table inside this wood-paneled room, Weider appears dapper and powerful, his muscular torso still filling out the gray pinstriped suit he wears with a starched white shirt and red power tie.

A young assistant helps Weider into his chair, a concession to his age. But the man who says he was "born with a barbell in my hands" in his book, "Brothers of Iron: Building the Weider Empire" (Sports Publishing, 2006), retains a strong handshake even after undergoing a heart valve operation and back surgery in recent decades.

Weider's twin interests in history and art are reflected in the Frederic Remington bronze sculptures of cowboys and Indians on horseback that adorn the conference room, as well as sculptures of Abraham Lincoln and Weider himself outside the room. A teacher once told him that he should be an artist, and indeed he says that that could have been his career had he not chosen bodybuilding.

His artistic sensibilities can be seen in his illustrations of the male body framed in the downstairs lobby, which appeared in the inaugural issue of Your Physique, the first publication in his magazine empire and the precursor to Muscle & Fitness. In 2003, he sold Weider Publications titles, including Muscle & Fitness, Shape, Flex and Men's Fitness, to American Media, Inc., for roughly $375 million, Weider says. Not bad for a Depression-era kid with a seventh-grade education who invested his life savings of $7 into putting out the first issue of Your Physique in the late 1930s.

On this spring day, he sports an adhesive bandage around the tip of his nose to cover a precancerous growth he had removed. Were he a younger man, one might assume that he had gotten into a fight, as he once did as a teen in Montreal, knocking out an anti-Semitic French Canadian bully with one punch. However, Weider, who immigrated to the United States after World War II, has not gotten into any fights since that scuffle in Montreal.

Weider grew up in an era when many Jews fought for a living, but he did not fight in the prize ring; he fought to keep a business afloat.

"Judaism made me," he says. "It taught me to be a good boy, respect women, study and apply myself to work."

Weider and his brother and business partner, Ben, never denied their Judaism, even when Ben was making contacts in Arab countries like Egypt, Iraq and the Palestinian territories as part of their effort to promote bodybuilding worldwide.

Over the years, they had to battle fierce competitors within their field, including Bob Hoffman, founder of the York Barbell Company and a U.S. Olympic weightlifting coach, who published magazines for weightlifters and served as head of the Amateur Athletic Union.

Joe Weider, who casually drops in references to Freud's pleasure principle, also had to battle psychologists, who claimed that weight training "would do you no good."

Looking resplendent with a full head of silver hair and matching silver moustache, Weider speaks for many young weightlifters when he says that "It made me feel I can change myself," then he adds, "and change other people."

Although bodybuilding improved the self-esteem of Weider and his disciples, he says that he had to counter another notion propounded by psychologists at the time -- that those who built up their physiques were "latent homosexuals" who liked to stare at their bodies. It seems an odd point to mention and certainly less serious than charges back then that lifting weights would leave one overly muscle-bound, that muscle could turn to fat and, worst of all, that weight-training could result in so-called "athlete's heart."

Like former pupil Schwarzenegger, Weider did have surgery for a leaky heart valve, but he says that both were born with the condition.

"Arnold's mother had it and died from it," he says.

Weider also says that his back problems were due to a freak accident and had nothing to do with weight training. However, he admits that handling weights improperly can damage the body. He is also well aware of the drug abuses of too many body builders and athletes in other fields, a scourge that has led to severe health concerns, including heart attacks, strokes and cancer.

In "Brothers of Iron," which is equal parts memoir, business primer and popular culture history, Weider stresses that he and Ben were always opposed to steroids. He writes that, "like much of the world's evil ... steroids ... came from the Nazis and the Communists," a point that resonates when reflecting on the multitude of East German Olympians, both male and female, who cheated their way to gold medals with bloated musculature through the late 1980s. Although the International Olympic Committee banned certain performance-enhancing drugs in 1967, steroids were not added to the list until 1975.

Ironically, many of those Eastern Europeans got their weight-training methodology from Weider, whose publications have been circulating the globe for nearly 70 years.

In 1950, Weider made his famous 10 predictions, some of which ended up being remarkably prescient. None more so than Prediction No. 1, "I predict that civilization will speed up in every phase, and that the stresses and strains on mankind will continue to increase," and Prediction No. 2, "I predict that the resulting increase in mental and physical illness will force the world to recognize the importance of systematic exercise and physical activities."

Most satisfying of all, he says, has been Prediction No. 10, "I predict that body building will one day become one of the greatest forces in existence, and that it may be hailed as the activity that actually saved civilization from itself."

No one can say that Weider, who in "Brothers of Iron" compares himself to Einstein, St. Paul and Alexander the Great, lacks a healthy ego. But he seems to understand the irony of such grandiosity when he says, "I wouldn't really compare myself to them."

Still, he continues to go by nicknames like the Master Blaster and Trainer of Champions, and a bust in the lobby of the Weider Building proclaims him the Father of Fitness.

Some would dispute that title. Jack La Lanne started running a gym in Oakland around the time Weider began selling fitness magazines. And Walter Camp, the founder of modern American football, instituted the Daily Dozen, a series of calisthenics that were used by U.S. servicemen in World War I.

Weider says, however, that he knew nothing of Camp and did not meet La Lanne until the 1940s.

"I was in tune to nothing," remarks the distinguished gent in a voice that has been characterized as Yiddish-Canadian-Californian. "All I did was pull a wagon. At that time there wasn't anybody to learn from."

As a youth, he talked to sports shop owners in his hometown of Montreal about barbells. "Go to a bar where the girls are," they said.

Then he asked about dumbbells: "Yeah, we've got dumbbells here," they joked.

Finally, he talked a blacksmith into making him a barbell.

He developed his physique partly because he wanted to ward off bullies in the neighborhood, but, as he writes, there was more to it than that. He loved iron.

"Iron isn't dead. It communicates and feels like many, many things. It feels like the strength you will gain. It feels like fellowship.... It feels like cosmic power. You lift against gravity, the force that holds the universe together, which pulls down toward the core of the planet, which is made of iron."

This prose illuminates the dreamscape of a man who says, "I saw the barbell, and it opened up a whole new world."

Later, when he became a magazine publisher, he hired others like himself. As he writes, "It takes fanatics to put out a publication for fanatics.... I made muscle men and muscle heads into magazine men, rather than vice versa."

If Camp and La Lanne played a role in fitness in this country, Weider deserves credit for devising the "split system" -- working out nearly every day, upper body one day, legs the next -- which is used by athletes all over the world.

Before this system, Weider says the prevailing wisdom was to do eight to 12 repetitions three days a week. Even the term "reps," as well as other locutions known to all gym rats like "sets" and "pyramids," comes from the Weider principles.

A young Arnold Schwarzenegger read Weider's magazines when he was growing up in Austria and yearned to be a Mr. Olympia.

In the late 1960s, Joe Weider spotted Schwarzenegger's charisma and determination and famously brought him to California to train at Gold's Gym, run by Joe Gold, another Jewish weightlifting icon. Weider got Schwarzenegger an apartment, a car and some money and started training him. Later, he paid for Schwarzenegger's education and catalyzed his business career by advising the future governator to invest in real estate. Schwarzenegger bought property in Santa Monica, which he still owns and now houses the restaurant Schatzi on Main.

As Weider writes in the book, "When the student is ready, the teacher appears."

Weider the teacher now signals to his nephew, Eric Weider, president of the company, that he has some papers on the desk in his office. Eric Weider, 43, has established the Weider History Group, a series of publications including a new military history title, Armchair General. The Weiders sold off their barbell and treadmill business for $270 million in 1994 to Bain Capital, a Boston-based firm run at the time by Republican presidential candidate Mitt Romney, whom Eric Weider remembers as "a bright guy." But the Weiders still own a vitamin line and have a 50 percent stake in the Mr. Olympia competition, which began in 1965.

Eric comes back into the room with a special report from Harvard Medical School.

"Physical activity can help you avoid a host of serious ailments," reads one of the headlines.

Joe Weider, the pioneer who battled stereotypes and misinformation about weight training for decades, chuckles, "It goes to show they finally caught up."