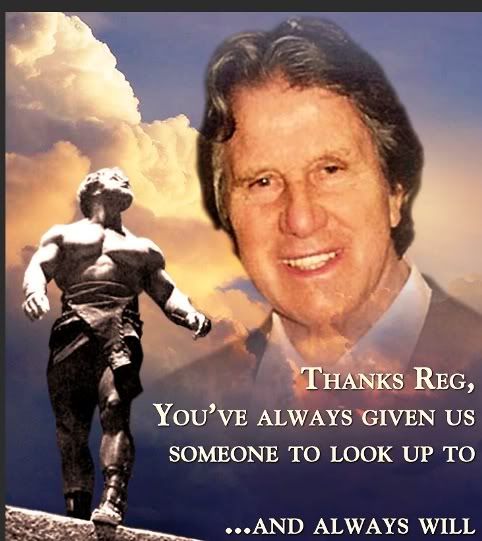 Johannesburg, South Africa
22 November 2007 04:55

International bodybuilding legend Reg Park (79) passed away in Johannesburg on Thursday morning from advanced skin cancer.
"In his dying moments he was talking in his sleep and training people and exercising them," his son, Jon Jon, said.
Jon Jon said Reg had suffered with the debilitating illness for eight months but had accepted that he was going to die.
"He accepted the fact that he knew he was going to go. He knew realistically and intellectually the fight was over. He lived four times longer than the doctor anticipated," Jon Jon said.
Jon Jon said the family had been overwhelmed with condolences and tributes to the Mr Universe winner and finalist.
"He lived with dignity and died with dignity and his legacy will live on. He inspired thousands and thousands around the world," said Park.
Jon Jon said his father had never compromised his beliefs, morals or principals and had refused to take steroids, even when they became prevalent in the bodybuilding fraternity.





"He refused to take them and still had the courage to compete against men who were obviously taking steroids and were obviously half his age," he said.
Jon Jon said Reg was passionate about everything he did and never discriminated against anyone he spent time with training in the gym.
"He would help everyone and talk to everyone; from the manual labourers in the gym to the extremely wealthy, he treated everyone the same," he said.
On his website, Park, knowing of his imminent death, posted a thank-you note to his fans and supporters.
"Thank you to the many, many people from all over the world who sent me their prayers and praises during my recent illness.
"I am humbled and overwhelmed by your support and caring, and again, I thank you. With love from Reg," he wrote before his death.
Born on June 7 1928, Park's first international accomplishment was that of third runner-up in Mr Britain in 1946.
In 1949 he won the title and then went on to win Best Developed Athlete in America and overall Mr Europe winner in 1950. In 1951 he won the title of Mr Universe. Park went to compete in bodybuilding competitions and was featured in a number of magazine articles. According to his website, he last featured in a volume of Health and Strength in January 2003. The memorial will take place at 8 Gail Road in Morningside, Sandton, on Sunday afternoon. – Sapa
XXXXXXXXXXXXXXXXXXXXXXXXXXXXXXXXXXXXXXXXXXXXXXXXXXXXXX
SCHWARZENEGGER GRIEVES THE PASSING OF HIS MENTOR
Gov. Arnold Schwarzenegger on Thursday said he was deeply saddened by the death of his former trainer and mentor, legendary bodybuilder
Reg Park. "He was like a second father to me," Schwarzenegger said in a statement. "He is the reason I was motivated to become Mr. Universe myself and come to America and make movies."
South African media reported that Park died Thursday morning in Johannesburg . The Mail and Guardian in
Johannesburg reported that he died from advanced skin cancer. He was 79.
"Other than my parents, there may be no single person who had more to do with me becoming the person I am today than Reg," Schwarzenegger said of the three-time Mr. Universe winner.
Park, originally from Yorkshire, England, was a key influence early on in Schwarzenegger's bodybuilding career, when he trained with the future governor in South Africa .




"It was Reg who impressed upon me how hard I would have to work if I wanted to achieve my dreams," Schwarzenegger said. "I'll always remember him making me do calf raises with 1,000 pounds at 5 o'clock in the morning."
Schwarzenegger went on to compete against Park in a bodybuilding contest in 1970, and beat his mentor in a closely fought contest, according to the Reg Park Legacy Foundation's Web site.
Park's striking figure - he was six foot and in his younger days weighed up to 250 pounds - caught the eye of film producers and he starred in five Italian "sword-and-scandal" movies in the '60s, according to the Web site.
Park is survived by his son Jon Jon, daughter Jeunesse and wife Marion.
"Reg was a dear friend, an extraordinary mentor and a personal hero," Schwarzenegger said.

XXXXXXXXXXXXXXXXXXXXXXXXXXXXXXXXXXXXXXXXXXXXXXXXX
REG PARK - A HERCULES FOR OUR TIME
By Osmo Kiiha

Reg Park was one of the greatest bodybuilders
Britain ever produced. Until Reg appeared on the scene, as far as international standards were concerned, the British were "also rans." Reg was the first British bodybuilder to compare with, compete with, and finally surpass the long time American champions.
Reg Park won the NABBA Mr. Universe title three times in 1951, 1958 and 1965 - an outstanding achievement for anyone. No one could rival Park in the early 60's. He developed muscle size not seen before him, with sharp definition and muscularity. With the Park physique, we entered a new era, moving from bulk alone to a realization of what refined development could really look like.
He established training instructional courses and became a leading figure in British and world bodybuilding long before he moved onto the silver screen.
A shrewd businessman, Reg used his earnings to firmly establish himself in South Africa with a chain of gyms that have had a profound effect in producing some of the most superlative physiques in that part of the world.
It is not saying too much to acknowledge that Reg brought physical development to a new high by his work.
Today, Reg is retired from the gym business, having sold all of his health clubs. Reg still does one on one training in
South Africa . I caught up with Reg in Santa Monica when he was visiting with his son Jon-Jon and his family for Christmas. What follows is an interview with one of the true gentlemen of the sport,
Reg Park . I hope you enjoy it...

IM: Tell us about your personal background.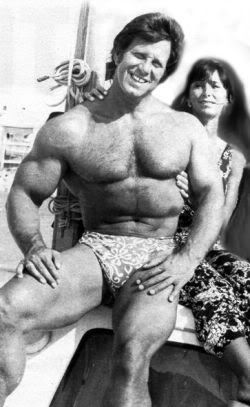 Reg: I was born June 17, 1928 in Leeds, England and currently reside in
South Africa . I have a wife, two children and five grandchildren.

IM: I read that you were quite a sprinter in your younger days and also played soccer. Reg: I competed in various amateur track events around Leeds and achieved a fair amount of success as a sprinter. When I was sixteen, I turned a 10.3 second time on the 100 yard dash. I also had a long jump of 21' 10" and competed in the discus throw. I loved soccer. BY the time I was fifteen, I was playing soccer for my school each Saturday morning and also played Leeds United Reserve Team in the evening. IM: How did you get interested in weight training?

Reg: During one of our soccer games, I really wrenched my knee, which required a trip to the hospital. It also ended my aspirations of becoming a professional soccer start. At the hospital they rehabilitated my knee with weights. In those days, England had not discovered the leg extension machine, so they strapped an iron boot to my foot and I did extensions with my leg in an ever increasing number of repetitions. The whole thing was strictly therapy. Shortly after my release from the hospital, I started reading "Health & Strength." I never missed an issue of H & S, but it never occurred to me to try my hand at bodybuilding. At the time, I was much more interested in gymnastics. I was able to do one hundred pushups easily in those days. One day, I was thumbing through a new issue of H & S, when suddenly I had to stop. It was a picture of an American bodybuilder; a fellow named Vic Nicolette, who had just won the title of Mr. New York City. Vic was standing in a sort of semi-lat spread pose. The picture took me by surprise. All at once I knew this was how I wanted to look. In those days, American bodybuilders were light years ahead of anything Britain had to offer. I decided I would emulate Vic Nicolette.




IM: Who else inspired you?

Reg: Grimek and Reeves both served to inspire me. Grimek for his mass, athletic ability and integrity; and Reeves for obvious handsome physical shape.

IM: Did any one person in particular start you out in weight training?
Reg: In 1946, while visiting a swimming pool in Leeds , I was struck by the impressive physique of Dave Cohen. He was a bodybuilder of considerable reputation and one of the world's best developed men. In those days, Dave had 17 inch arms, a 17 inch neck and 17 inch calves to boot. I walked over and spoke to him. We immediately became fast friends and it is Dave that I give full credit for my start in weight training.

IM: Where did your first training session take place?

Reg: Dave Cohen's training partner's mother had allowed the guys to set up a small gym in her front room. It comprised a bare room with a wooden floor on which stood a standard barbell and a pair of dumbells - no other equipment. The first workout consisted of standing barbell presses, barbell curls, squats and pullovers and presses on the floor. We did three sets of each exercise with a rep scheme of 10-8-6. I remember pressing and curling with 40 pounds. It was not a great start, but at least it was a beginning.

IM: How long did you workout with Dave Cohen?
Reg: I was only able to train three months with Dave. I was called to serve my country in the Army National service for two years, most of it in Singapore . I had no weights, but I compensated with freestanding exercises. I was a physical training instructor, which meant I was doing exercises with different classes from nine o' clock in the morning to five in the evening.

IM: What events brought you back to the bodybuilding scene?

Reg: During my national service, I kept up with the weight game by reading Weider mags "Your Physique" and "Muscle Power", thanks to the generosity of my friends back in Leeds, but it was the news that the 1948 Mr. Universe contest was to be staged in London at the time of the Olympic Games that got the old juices flowing.

IM: Did you make it to the Mr. Universe contest?

Reg: Not only did I make the contest, but it was there that I decided to make my fortune in bodybuilding and even told my friend that some day I would myself win the Mr. Universe contest even though I had only three months training behind me.

IM: Speaking of the '48 Mr. Universe, did you agree with the decision?

Reg: I was not totally satisfied with the way the contest turned out. John Grimek won the 1948 Mr. Universe, but in my book, Steve Reeves should have beaten him. When it came down to sheer physical beauty - which was what I thought the Mr. Universe contest was about - Reeves was way ahead of Grimek. Grimek's posing routine won it for him. John started off with acrobatics and presses from the floor into handstands, that and his muscle control, well, the roof almost caved in from applause he received. But there you are, that is what mass hysteria can do at a muscle contest. Of course, I thought I was the better man in 1950, when Reeves beat me at the 1950 Mr. Universe in London , but that is another story...

IM: Reg, everyone I speak to is impressed with your culture and evident higher education. Just what formal schooling have you had?

Reg: I completed the usual grad school courses and then took two years of specialized study at the Leeds College of Commerce in Business Administration.




IM: How did you juggle going to school full time and training?

Reg: It was difficult at times. I went to school during the day and trained at night. My early training was done in my parent's back yard. I set up two poles in the ground with a bar across the top for chinning exercises. I had acquired a barbell and a pair of dumbbells and a flat wooden bench that I built according to the specs obtained from a muscle mag. Also, I set up a pulley machine that extended from my bedroom to the yard. Talk about cold, the temperatures dipped below zero in the winter. I took to training in three thick sweatshirts. Later, we were able to move to a more prestigious location - a three walled garage that had a tin roof and concrete floor, but no electricity. It was just as cold.
IM: When did you enter your first contest?

Reg: My first contest was the Mr. Northeast Britain, in March of 1949, which I easily won securing an invitation to the Mr. Britain contest. In the process, I defeated the 1948 Mr. Britain , Charlie Jarrett.

IM: When did you receive your invitation to the Mr. Britain contest?

Reg: The invitation came one month prior to the contest, in September 1949. The contest was to be held October 28, 1949. Actually, it came at a bad time; I was in the process of completing my final business administration exams. After I successfully completed all my exams, less than a month was remaining to the Mr. Britain contest.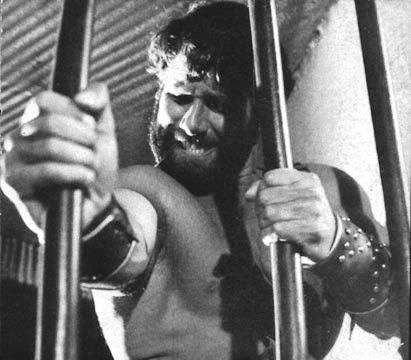 IM: Were you still training in the garage at that time?

Reg: No, I had joined Henry Atkin's Viking Gym for the express purpose of training for the Mr. Britain contest. With Henry's help, I was able to increase my bodyweight from 196 lbs. to 226 lbs. in a month. For the first time in my life, I trained twice a day, six times a week. In the morning, I trained the lower body with high repetition squats, hack lifts, calf exercises and sometimes heavy bench presses. In the evening, I worked the upper body. All the squat sets were done in 20 reps with very deep breathing. The upper body work consisted of heavy standing presses, curls, bench presses, both barbell and dumbbell rows at anywhere from 6 to 10 reps per set. At this time, I did no other activity and rested whenever I was away from the weights.

IM: How well was Henry Atkin's Gym stocked with equipment?

Reg: Henry had all the latest equipment of the day: pulley machines, incline benches, round yoga benches and tons of weight. The Viking Gym was equipped just like an American gym from the later 1940's. By the way, the Viking Olympic Barbell was used at the 1948 Olympic Games for Olympic lifting. It was designed personally by Henry Atkin.
IM: Did all of this extensive training pay off?

Reg: Yes, I became Mr.Britain for 1949. Paul Newington came in 2nd and John Lees, who in 1957 won the Mr. Universe contest, took third. Another interesting thing happened at the contest. John Grimek, who was flown from the
USA to judge the contest, was asked to compare me with John Lees who weighed 200 pounds at 6' 2, Grimek noted, "Lee is a very big boy." And Park? "He's a very big man!" This statement pleased me a great deal. * [* Ed Note: Grimek thought Park had the most "Americanized" physique of all the contestants.]

IM: How about your parents? Did they encourage you in your training?

Reg: Had I been given the opportunity of selecting my parents, under no circumstances could I have done a better job than destiny. I am an only child and my mother and father have always, at all times, encouraged me to participate in athletic pastimes, undoubtedly a contribution in no small way to the winning of many trophies. My pal, the late Rueben Martin said that my mother spent all her time around Leeds scrounging food for her son and that my father chased around the country making sufficient money to pay for it. In all seriousness, my mother is a marvelous cook and has always fed me with the best food obtainable. My father was a very capable fixer and had the type of personality that makes friends. Whenever I wanted anything done I only had to say, and my father fixed it. A good example of that was when I said that I would like to live at the Viking Club for a month prior to the Mr. Britain contest. The next day he was in London arranging it with Henry Atkin.

IM: Did you receive any publicity for winning the Mr. Britain in any of the mainstream mags?

Reg: In those days, it was hard to get good publicity for weight training or for bodybuilders. I broke new ground by having a life size double spread of my arms flexed in the "respectable" Picture Port magazine.




IM: What kind of strength feats were you capable of in 1949?

Reg: I regularly benched around 325 and was capable of a correct curl with 175 pounds. In 1949, I met Reub Martin (for the first time) who was touring England in those days with Folies Bergere. It was Reub's dressing room that I first cleaned and pressed a pair of 100 pound dumbbells - a feat of which I was very proud.

IM: After winning the Mr. Britain contest, did you travel to the United States ?

Reg: Yes, it was a gift from my parents for wining the Mr. Britain title. I had a great time in New York and trained at the old John Terlazzo gym with some of the greatest American bodybuilders as my training partners. My first American appearance was at the John Terlazzo show, Jan 27, 1950, at the St. Nicholas Arena, New York . I traveled extensively and although I lost a little weight on the trip, I did learn from the Americans, which was the main reason for my visit. I trained exceptionally hard while in America . I lived for bodybuilding in those days.

IM: On June 24, 1959, the NABBA Mr. Universe takes place in London at the Scala Theater. How did you fare?

Reg: I came in second to Steve Reeves and Juan Ferraro from France placed third. I felt I should've won the contest, not matter, I didn't win. Reeves won by a vote of four to two over me. I did win the Mr. Europe contest, which was held in conjunction with the Mr. Universe contest. I weighed only 215 as opposed to 225 for Reeves. I was much more muscular than Reeves and had good overall size. Apparently, the ten extra pounds Steve had over me made him look much heavier and larger to the judges.

IM: Did you return to the USA afterwards?

Reg: Yes, after the Mr. Universe contest, I traveled back to the states and entered the widely publicized " America 's Best Developed Athlete" event, September 8, 1950, at the New York St. Nicholas Arena. I won the contest with Floyd Page placing second and Alan Stephan taking third. Also competing were Ed Thereault and Alan Paivio. Suddenly, I was making headlines all over the bodybuilding world press.

IM: How did you train during this time?

Reg: I devised a training system that would not tax my endurance too heavily. I began training on a system of five sets of reps for each exercise. I remember that I concentrated on presses behind the neck, bench presses, barbell presses and two arm dumbbell presses. My workouts lasted about an hour and thirty minutes, afterwhich I felt completely depleted. I tried increasing the poundages whenever possible. My clean and dumbbell press had increased to 110. I found I enjoyed this system and it paid off. I trained five days was week, working the same bodyparts each session.

IM: Who were some of the stronger bodybuilders you trained with?

Reg: Marvin Eder would have to be at the top of the list, at Abe Goldberg's gym in New York . We would sometimes work up to 450 lb. Bent over rows and seated dumbbell curls with a pair of 100 pounders. Clancy Ross was another man of immense power, who did inclines with 160 lb. Dumbbells. Floyd Page was no slouch in the strength department, either.

IM: Did you enter the Mr. World contest in Paris, France (October 15, 1950)?

Reg: I was barred from competing in the Mr. World because I had won the IFBB "America's Best Developed Athlete" in New York City . The IWF said the contest was a professional event because of the $500.00 offered in prize money. Anyway, I never received any of the money. John Farbotnik won the Mr. World contest.




IM: How did you prepare for the 1951 Mr. Universe contest?

Reg: Prior to the Mr. Universe contest in 1951, I worked out three hours every day. Legs one day and upper body the next day. I worked out fast and furiously - they were murderous workouts. I ate anything I fancied including one dozen eggs and eight pints of milk daily. Most of the contest preparations were done in South Africa and I returned home to England just one month prior to the contest to put on the finishing touches.

IM: You easily won the 1951 Mr. Universe contest (Sept. 1, 1951) in London . You were the first Englishman to do so. Any comments?

Reg: I was clearly more massive and muscular in 1951 [than the year before] and won with no trouble whatsoever. With less than two years training, I had achieved the top of the bodybuilder ladder. By the way, Joe Weider placed 5th in class I out of twelve competitors. Since I had no more physique titles to strive for, I turned my attention to brute strength.

IM: When did you meet Ben Weider?

Reg: Ben Weider showed up at my parent's house in 1951 with a Weider contract.

IM: Did you go into business with the Weiders?

Reg: We established the Reg Park Equipment Co. and the Mr. Universe publishing company in England . My father was the business director of the company. [Ed. Note - The Mr. Universe magazine was published by Joe Weider with Reg Park as managing editor in Leeds, England . The first issue was published in March 1952 and the last issue in December 1952. There were eight issues in the collection.] My father and Joe Weider didn't see eye to eye in business matters, so the partnership was dissolved. I personally always liked Joe; he was a true bodybuilding enthusiast.

IM: How did the business fare?

Reg: We started a new magazine called "The Reg Park Journal of Physical Culture" in January of 1953; then in January 1954, "The Reg Park Journal." The last issue was December 1959. Also, during this time, we published a magazine called "Muscleman." [Ed Note - "Muscleman" was published from Sept. 1952 to Dec. 1953. Three were 16 issues in all.] "The Reg Park Journal" had over 60,000 readers in the 1950's. During the next decade, I spent most of my time working extremely hard running the business. We sold everything from barbell to food supplements and everything in between. I also flew all over the world at the invitation of many countries giving posing exhibitions in all corners of the globe. Almost weekly, I traveled all over England giving strength and posing exhibitions.

IM: When did you get married?

Reg: I fell in love with a beautiful South African girl, Mareon, and we were married 10/22/52 in Johannesburg, South Africa . Mareon is the sister of bodybuilder and film technician Johnny Isaacs, who almost took the Mr. Universe title in 1953.

IM: What about children?

Reg: My daughter, Jeunesse, was born in 1954 and today lives in South Africa with her three children. My son, Jon-Jon, was born in 1957. He lives in Santa Monica with his wife and two children. By the way, Jon-Jon owns the World Private exercise gym in Los Angeles . He can be contacted at (310) 478-1233.

IM: Earlier, you stated that you turned toward power type training after the 1951 Mr. Universe...

Reg: I always trained for power and size during my early competitive career. About the only time I did a pure bodybuilding program was for the May 11, 1957 Mr. USA contest where I guest posed. I believe that I was in my finest condition ever for that contest. I also bench pressed 445 during the show. I hadn't done any benches for months prior to the USA .

IM: What type of diet did you follow?

Reg: I liked to eat like a king, but only food that was good for me. I ate prodigious amounts of food during the day, but adhered to a very balanced diet with everything in proper proportions. My favorite food is steak, which I sometimes eat twice a day. I also like salads, orange juice and wine. I have a wine cellar in my home. I also have used protein supplements and take vitamin and mineral tablets. [3. Earle Liederman once wrote in "Iron Man" about the gastronomical indulgences of bodybuilding starts, "Reg Park of England wins a good second to Mac Batchelor with his speed. Once, when dining with Reg, he gargled three large plates of vegetable soup, then gulped chucks from his extra large and thick steak without his teeth sinking into the meat once, apparently, next stuffed many side dishes of vegetables into his ever open mouth and these include an extra large pair of baked potatoes, a huge bowl of salad, three glasses of milk and the last, the piece de resistance, a big dish of ice cream with cake. And all this, mind you, in about ten minutes. Gee! I've seen hungry bloodhounds gobble down food, but Reg Park wins a can of fried grasshoppers as second place for amount, and first place for speed."]




IM: When did you make most of your records and what were they?

Reg: All of my top lifts were made in the 1950's as follows:

- Behind the Neck Press - 300 Lbs. For one rep.

- Behind the Neck Press - 260 Lbs. For four reps.

- Behind the Neck Press - 240 Lbs. For eight reps.

- One Arm Dumbbell Press - 165 Lbs. For two reps.

- Front Squat - 405 for a single.

- Lying Triceps Extension - 300 Lbs. For three reps. This was done at Muscle Beach in 1957.

- Standing Dumbbell Press - Two 120 Lb. Dumbbells for five reps.

- Standing Dumbbell Press - Two 140 Lb. Dumbbells for one rep.

- Dumbbell Bench Press - Two 185 Lb. Dumbbells for five reps.

- Squat - 605 for two reps at Buster McShane and Ivan Dunbar's Gym in Belfast.

- Strict Barbell Curl - 200 Lbs. For one rep.

- Incline Dumbbell Press - Two 185 Lb. Dumbbells for five reps.

I also bench pressed 500 Lbs., April 23, 1954, at around 225 bodyweight at a Health and Strength show in Bristol . I was the first in the UK and second in the world to bench over five hundred. [6. Ed Note - Doug Hepburn was the first person in the world to bench 500 pounds on May 28, 1953 at around 285 bodyweight.] I never cleaned my heavy barbell presses; they were taken off a squat stand. My only regret is that I never attempted a pair of 200 pound dumbbells in the incline or flat bench press. I believe I could have easily done both feats, since I was doing reps with 185. Also, when I made the 258 dumbbell press - A British Professional Heavyweight Record - I had to keep a strict military position, not the looser Olympic style, and I was forced to hold the dumbbells at my shoulders for almost half a minute before I pressed them to satisfy the referee's demand for a low enough position. The lift was made August 29, 1953, which beat the old record of 235 which was also held by me.

IM: At the Viking Club (10/26/49), I understand that you also tried to repeat Thomas Inch's three feats of strength.

Reg: I tried lifting Inch's "Challenge Dumbbell" (172 lbs. With a 2.47" diameter handle). It was impossible to move off the ground. In my mind, it is impossible to lift by anyone. [7. The Inch Dumbbell today is owned by David Prowse and is on display at his gym.] I made mince meat of his cable expanders. They were very easy. I was unable to close his grip machine, which supposedly took 580 pounds of force to close. I did; however, register 525 pounds on it, which was fairly close to Inch's record of 556 pounds; this was the second best attempt done to that time.

IM: How about a sample routine from the 1950s?

Reg: I didn't have a favorite workout routine. I have done every routine and every exercise in the book, but like most advanced trainers, I have found what exercises and what routines give me the best results. What is good for one man isn't necessarily good for somebody else. My bodyweight fluctuated between 230 and 245 during those years. Here is a routine I used around 1956-1957 with good results:

Deltoids and Upper Back

- Press Behind Neck 4-10 Sets, 5 Reps.

- Heavy Bent arm Lateral Raises 5-10 Sets, 10 Reps

Chest

- Bench Press 5-10 Sets, 2 Reps (That's Right 2 Reps!)

Thighs

- Squat 5 Sets, 5 Reps (of all exercises, this one was my favorite.)

- Hack Lift 5 Sets, 5 Reps

Biceps

- Barbell Curl 5 Sets, 5-8 Reps

- Incline Dumbbell Curls 5 Sets, 5-8 Reps

Triceps

- French Press - I did these standing and lying on the bench.

Calves

- Calf Machine 25 Reps, Many Sets.

- Donkey Calf Raises 25 Reps, Many Sets

Back

- High Pullups 5-8 Sets, 3 Reps.

- Power Clean 5-8 Sets, 3 Reps.

- Chins Behind Neck 5-8 Sets, 5-8 Reps (weights tied to waist.)

Waist and Trunk Area

- Leg Raises and Side Bends 100 or more Reps.

I alternated upper and lower body exercises on different days. I worked each muscle group for approximately one half hour. I also practiced forces breathing between sets. I also feel that one must have the right mental attitude when working out. You must drive yourself hard all of the time. Don't fool around, keep talk to a minimum, maybe a joke or wisecrack to ease the tension. Relax completely between exercises and concentrate only on the weight when exercising. Have one or two training partners to assist you, if possible. I also disliked working out in front of mirrors.