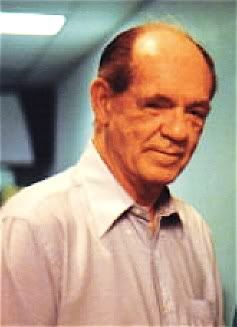 ARTHUR JONES

Arthur Jones, the inventor of Nautilus exercise equipment, died Tuesday, August 28, 2007. He was 80.

Jones had been ill for several days but was kept at home, per his wishes, said his son, William Edgar Jones. He died of natural causes, according to his son, who was by his father's side when he passed, along with a longtime friend and a nurse.

"He should be remembered as a man of extreme intelligence, extreme independence and probably one of the most unrecognized and unawarded inventors that ever existed," William Edgar Jones told The Associated Press.

His father was particularly proud of his latest invention — exercise machines used for rehabilitation purposes by people with spinal cord injuries and back pain, Jones said.

Nautilus came along in 1970 and introduced machines that offered a more-targeted approach to strength training, changing the idea of the workout.
The machines became ubiquitous — former President Ronald Reagan was even said to use Nautilus equipment in the White House when he was rehabilitating from his gunshot wound.

"Arthur Jones was the founder of modern-day exercise," Greg Webb, a Nautilus Inc. vice president of product development, said in a statement. "He had an incredible ability to create the interface between man and machine by incorporating biomechanics into exercise equipment."

The success of the machines also made Jones wealthy. He bought property in Ocala and started what has become the exclusive "fly-in" community of Jumbolair Aviation Estates, now most famously the home of John Travolta.

Besides his son, Arthur Jones is survived by two daughters.